Sacked Abuja Imam Gets New Appointment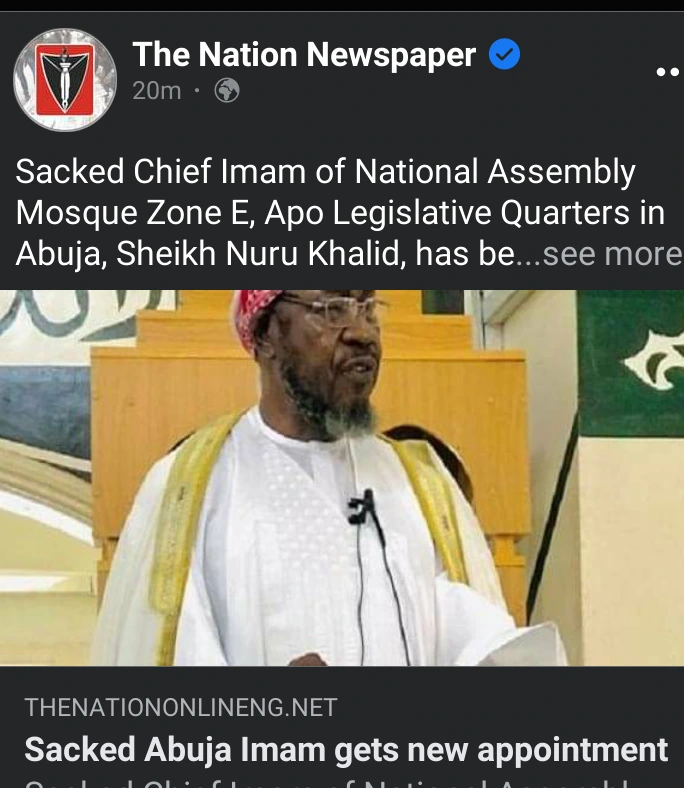 The Nation has learned that Sheikh Nuru Khalid, the sacked Chief Imam of the National Assembly Mosque Zone E, Apo Legislative Quarters in Abuja, has been appointed by the Management Committee of a new Jum'mat Mosque behind the Central Bank of Nigeria (CBN) Quarters in Abuja.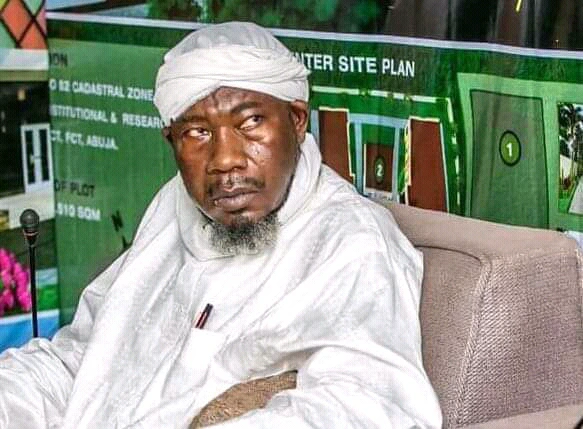 Photo Credit: Facebook
This comes just 24 hours after the Imam was fired by the Apo mosque steering committee for preaching a sermon critical of the government's failure to address the country's insecurity.
During his speech, he chastised the administration for failing to control the country's rising instability and deaths. He regarded the mosque's management committee terminating his appointment as a necessary price he had to pay for associating with the suffering masses and speaking truth to power.
11 Soldiers Feared Dead, 19 Injured As Bandits Attack Birnin Gwari In Kaduna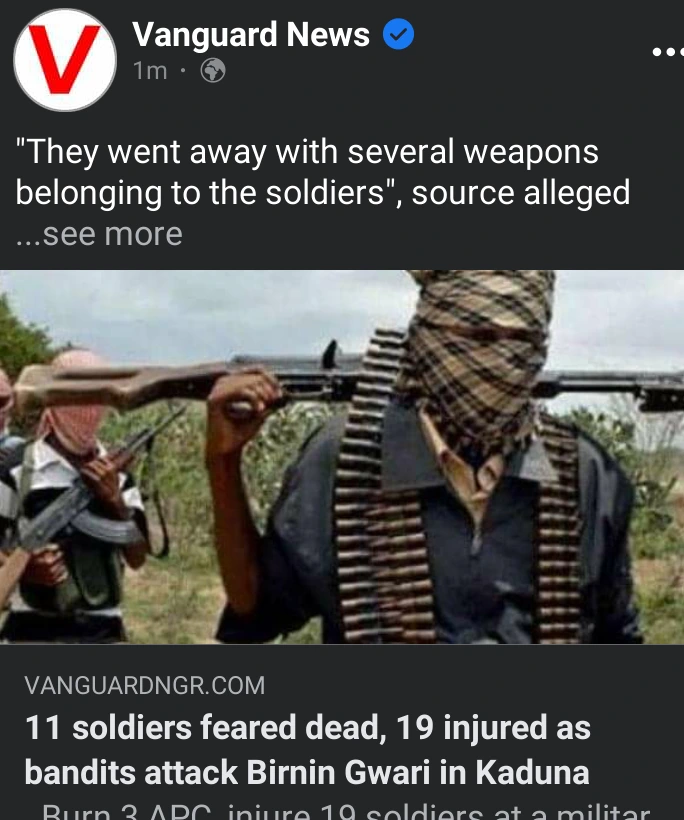 On Monday, 11 soldiers were killed in a brutal battle with a large group of suspected bandits who assaulted a military base in the Pole Wire Hamlet in Birnin Gwari, Kaduna State.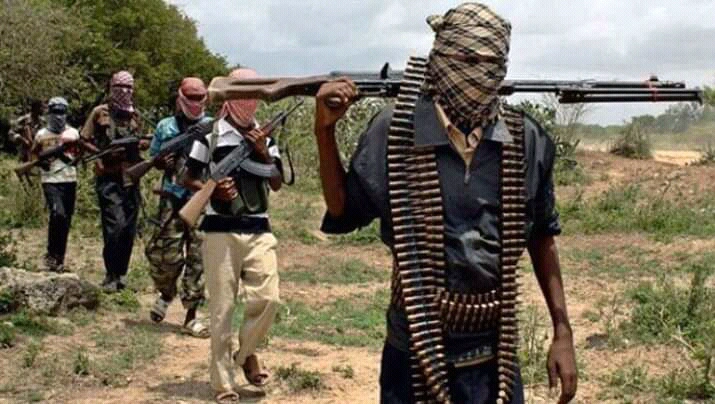 Photo Credit: Facebook
Bandits on motorcycles are believed to have infiltrated the base and opened fire on the soldiers, according to a source. Some of the robbers were armed with rocket-propelled grenades (RPGs) (RPG). They fought the soldiers for about two hours. They murdered 11 soldiers and wounded 19 others in the battle. They set fire to three armored personnel carriers (APCs).The insider claimed that "they made off with many firearms from the soldiers." The authorities have yet to respond to the violent altercation.
Insecurity: Buhari's Government Not Overwhelmed-Lai Muhammad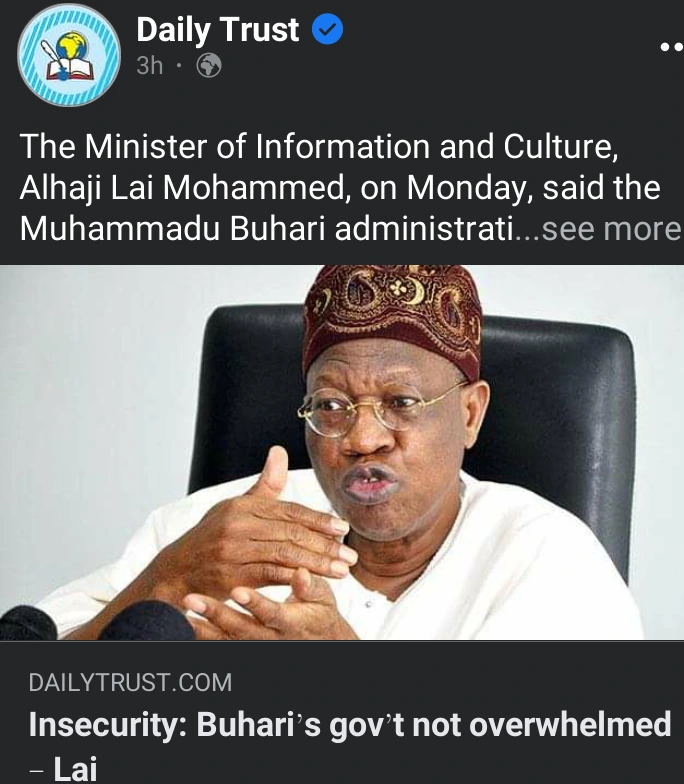 Alhaji Lai Mohammed, the Minister of Information and Culture, claimed the Muhammadu Buhari administration was not overwhelmed by the country's security concerns. Mohammed claimed this on a TVC program called 'This Morning,' which was broadcast in Abuja by the Nigerian News Agency (NAN).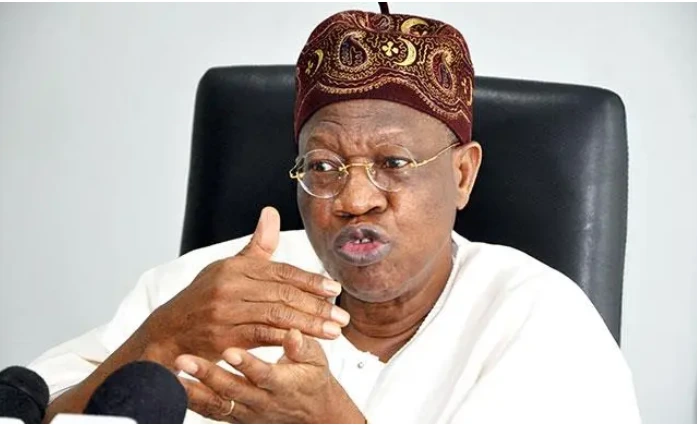 Photo Credit: Daily Trust||Facebook
The minister expressed his condolences to the families of those killed in a recent train assault and praised the federal government's efforts to address the country's security concerns. According to him, the government is moving quickly to install security devices on railway tracks in order to assure proper surveillance.