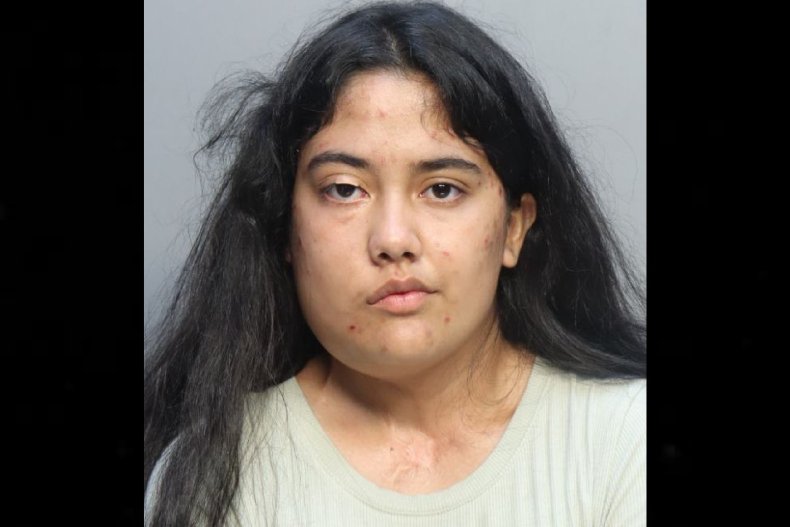 A young wicked mother has been charged after allegedly attempting to solicit a hitman from a fake murder-for-hire website to kill her 3-year-old son.
Jazmin Paez, 18, is facing charges of first-degree solicitation of murder and third-degree using a communications device for an unlawful use, according to online arrest records. She was booked into a Miami-Dade County detention center on Wednesday, and given a standard $15,000 bond.
It is unclear if she has posted bail or obtained legal representation.
According to CBS News, citing court documents, Paez allegedly sent the location of her son, in addition to photos of the boy, to the parody website, RentaHitman.com.
The website's owner, Robert Innes, initially created the website for a cybersecurity project, but said he receives thousands of inquiries a day.
Local Florida news outlet NBC6 reported in a video, linked above, that Innes alleged that Baez wrote in an online request form that she needed a hitman to "get something done once and for all" and wanted her son taken "far, far away."
"The ability to research names and addresses and verify the intended target lived in a particular address," Innes said to NBC6. "That to me is a red flag. If that information is corroborated, to me that is something that needs to be looked at and that's why I referred it."
The website owner claimed he attempted to report the incident to the Miami-Dade Police Department several times, but said they directed him to CrimeStoppers USA, per NBC6. "They were not interested. They sent me an email saying if I contacted one more time they were going to send a cease and desist letter," Innes alleged to the outlet. Eventually, the Miami-Dade Police Department took action.
The mother allegedly told police she was in a romantic relationship with an individual who didn't like that she had a son and had broken up with Paez for this reason.
Paez thought by hiring a hitman to kill her son, she would be able to rekindle their relationship, the affidavit says she told police.