Adamu Writes To Tinubu.
The All Progressives Congress national chairman (Abdullahi Adamu) has written to Bola Tinubu.
However, the former Lagos State Governor won the presidential ticket at the primary in Abuja.
Adamu had equally announced Senate President Ahmad Lawan as the preferred candidate of the party.
In a letter released on Wednesday night, the former Senator extended the compliments of members of the National Working Committee (NWC).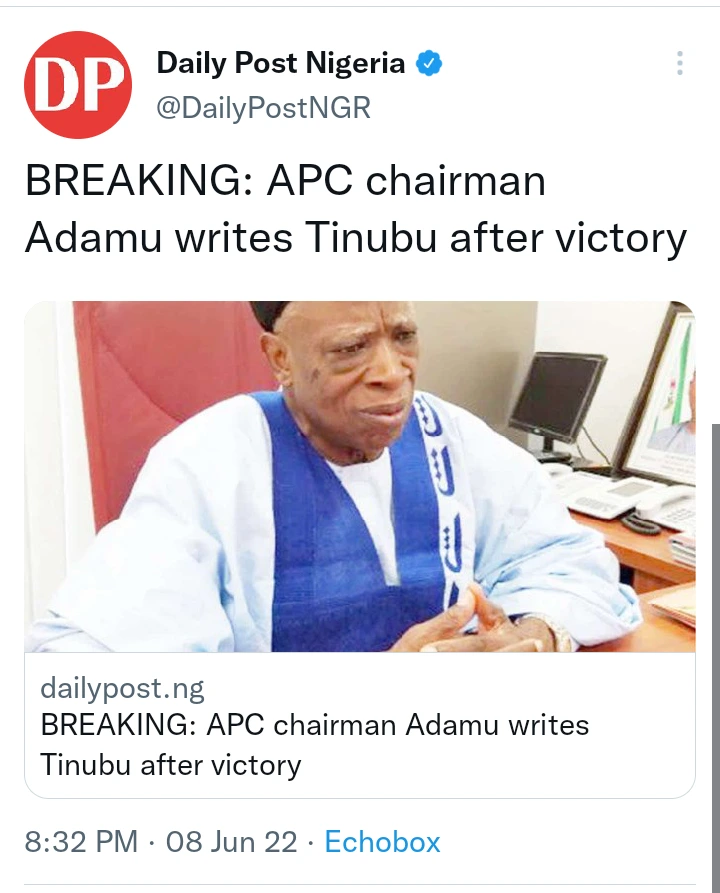 (Image Credit: Daily Post).
Adamu further said that his letter on behalf of all APC members was to congratulate Tinubu on the sterling victory recorded. The chairman revealed that his emergence has vindicated the party's nationalistic outlook and patriotic posture as the choice for every Nigerian.
I'll Leave Nigeria If Tinubu Atiku wins Presidency-Charly Boy
Musician and social activist (Charles Oputa) popularly called as Charly Boy has revealed that he will leave Nigeria if the Peoples Democratic Party presidential candidate (Atiku Abubakar) or the All Progressives Congress' candidate (Bola Tinubu) emerges winner of the 2023 general election.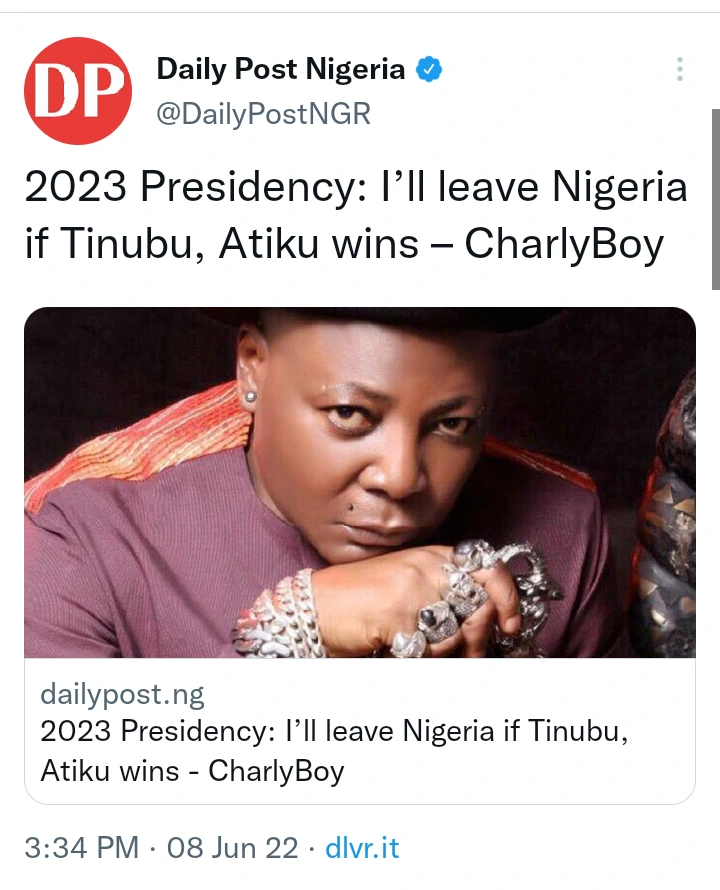 (Image Credit: Daily Post)
Also, the PUNCH had reported that Tinubu emerged the presidential candidate of the APC at the just concluded primary at the Eagle Square, Abuja, on Wednesday.
You're Worthy-Lawan Congratulates Tinubu.
The President of the Senate (Ahmad Lawan) has revealed that the emergence of Ahmed Bola Tinubu as presidential candidate of APC had reassured his party of winning the 2023 presidential poll.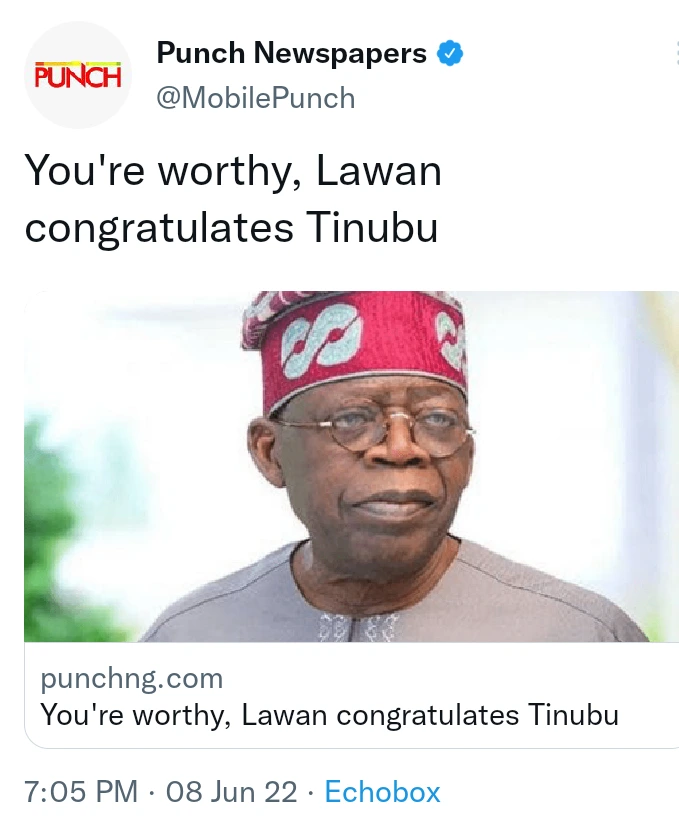 (Image Credit: Punch Newspapers).
In a letter of congratulation that he personally signed, Lawan who was also an aspirant in the primary said the outcome of the election process had shown that Tinubu was the popular choice of his party.
Tinubu's Emergence Was Our Wish-Fayemi.
Governor Kayode Fayemi of Ekiti has revealed that the emergence of Senator Bola Tinubu as the presidential candidate of the All Progressives Congress (APC) is a collective wish of party members.
Fayemi made the assertion in a statement signed by Mr Yinka Oyebode, his Chief Press Secretary, on Wednesday in Ado-Ekiti, Ekiti.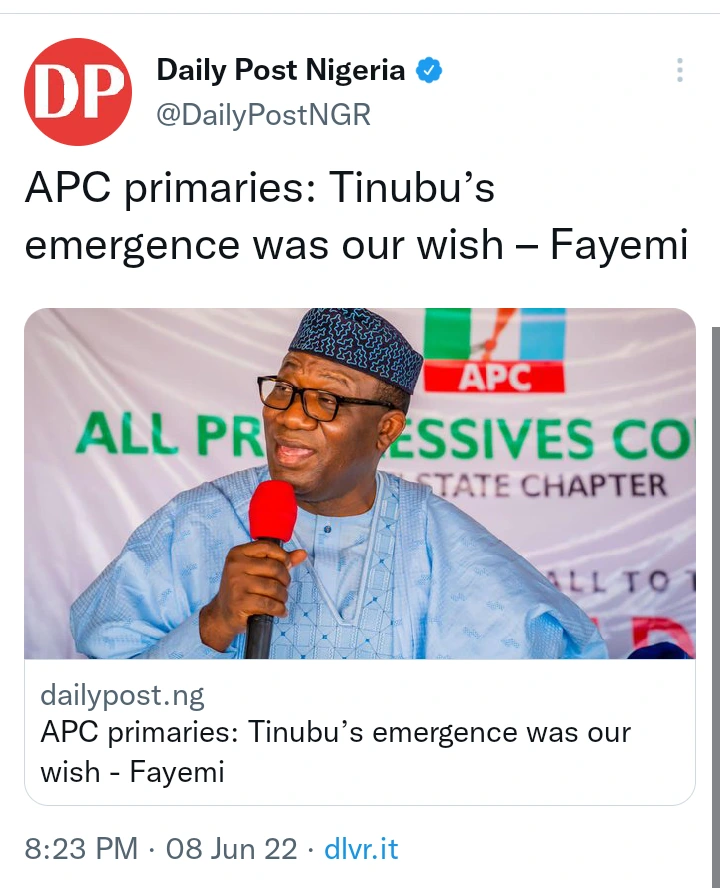 (Image Credit: Daily Post).
Also, the governor stated that Bola Tinubu had proven his dedication and competence to lead Nigeria at a very important time in the country's history.
2023 Presidency: I Bear No Grudge-Tinubu.
Bola Tinubu, the 2023 Presidential Candidate of All Progressives Congress has said that he bears no grudges or grievances against anyone, not even those that do not support his ambition.
Also, Tinubu who emerged as the APC 2023 presidential candidate at its just concluded Special Convention and presidential primary election, said this on Wednesday in Abuja.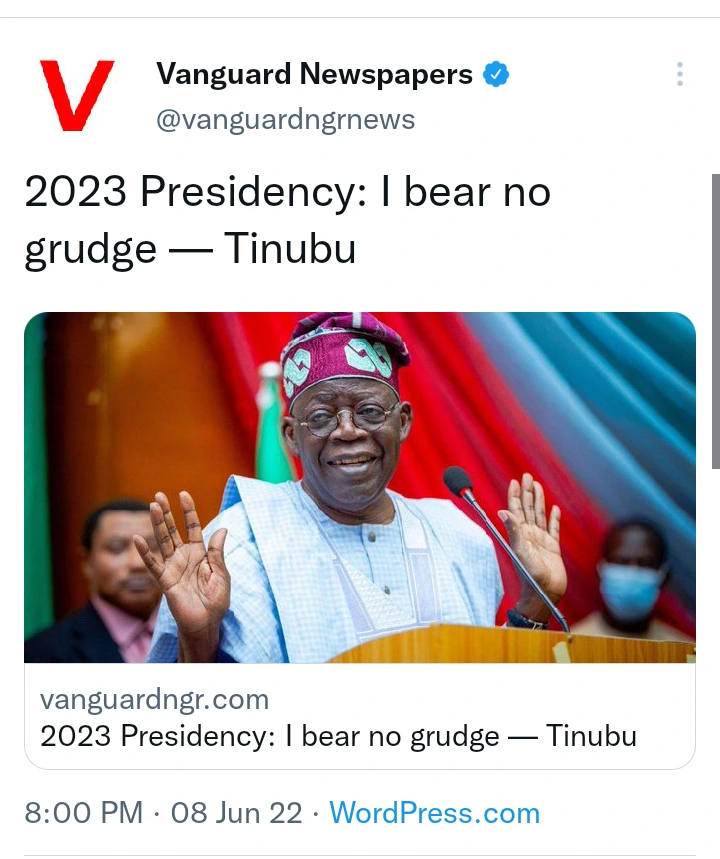 (Image Credit: Vanguard Newspapers).
The former two-term Lagos State governor equally thanked the party's delegates and leadership for making him its presidential candidate for 2023 presidential electio