Bishop Oyedepo Sends Message To FG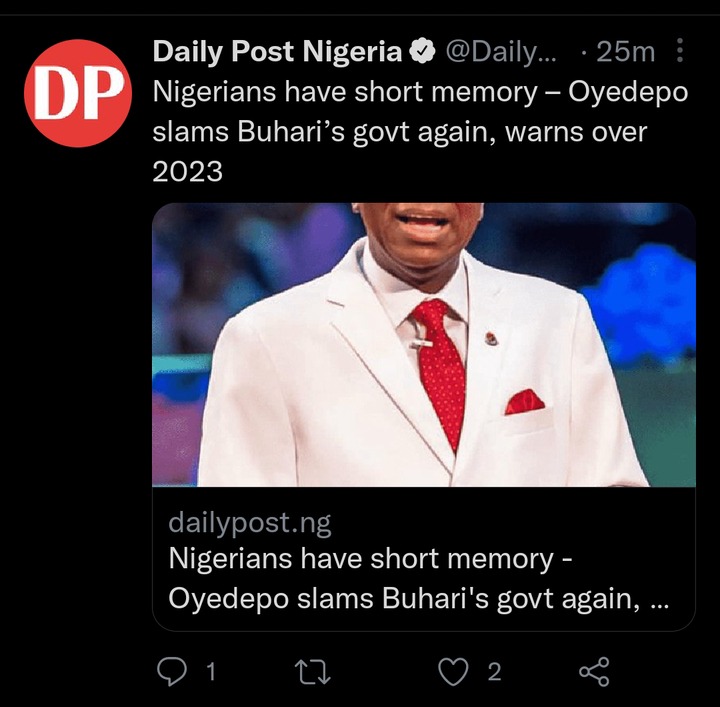 Photo credit: Daily post
Presiding Bishop of Living Faith Church Worldwide, aka Winners' Chapel, David Oyedepo, has claimed he always knew Nigeria was heading for a waterloo under President Muhammadu Buhari's administration.
Oyedepo stated this during the Easter service in his church.
The cleric has been a vocal critic of Buhari since 2015 and has now said God confided in him that the country was not heading in the right direction.
Oyedepo also described Nigerians as a people with a "short memory", as candidates begin to express their interest in running for the presidency in 2023.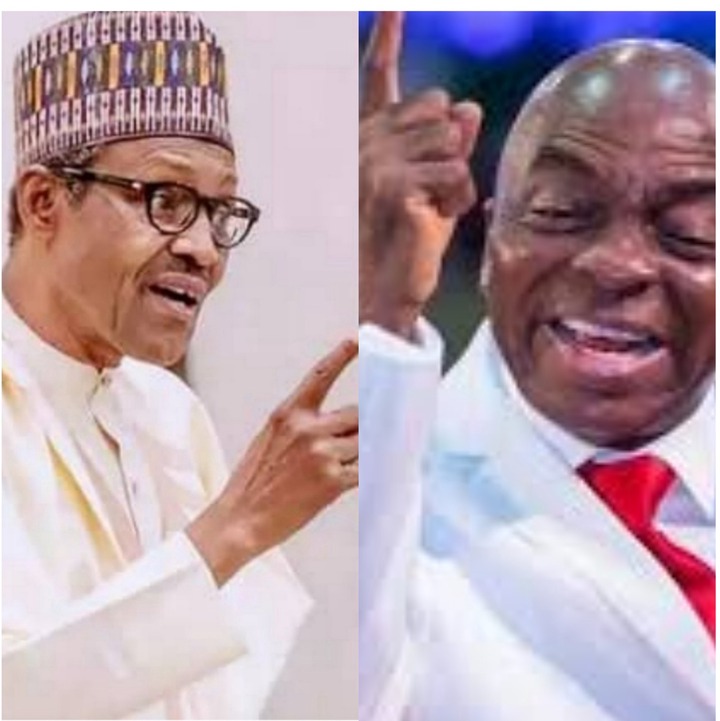 (Photo credit: Google)
I Can't Trust Any Igbo Man As President– Oluwo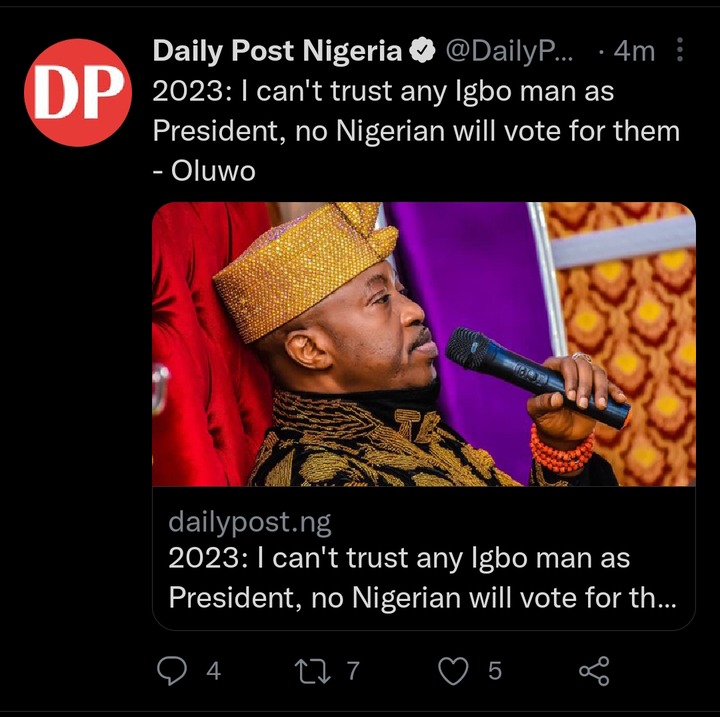 Photo credit: Daily post
The Oluwo of Iwo, Oba Abdulrosheed Adewale Akanbi, has declared that he can trust any Southeaster to be the President of Nigeria.
His stand is coming at a time the South-East is demanding for a Nigerian President of Igbo extraction, on the basis of equity.
He noted that the sit-at-home order issued by the members of the Eastern Security Network (ESN) was not only inimical to their survival but also to the growth of the nation.
Oba Abdulrosheed also advocated for a rethink by the South Easterners to their approach.
The monarch held that no Nigerian will feel secured in the hands of a leader whose ethnic attachment deprived other Nigerians their rights.
Ukraine Has No Intention To Surrender- Zelensky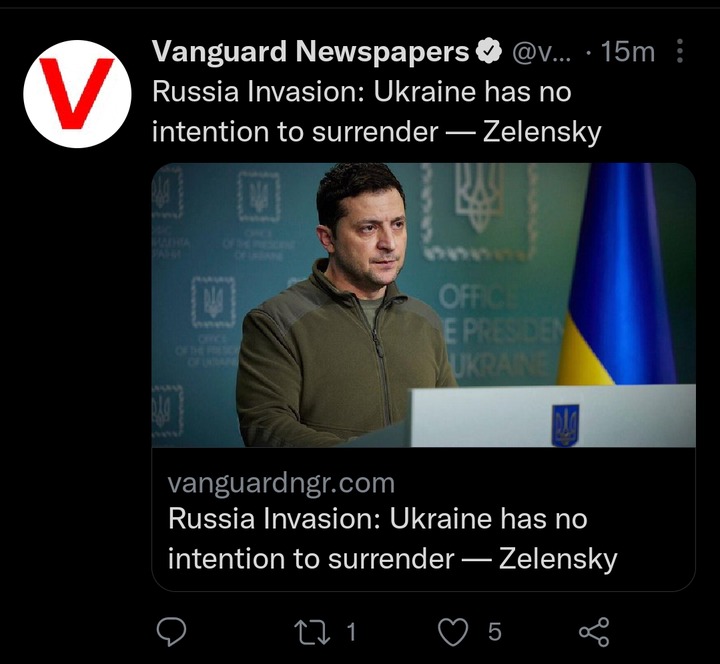 Photo credit: Vanguard newspaper
Ukrainian President Volodymyr Zelensky said Ukraine is fighting in the Donbas region and it has "no intention of surrendering".
In an interview broadcast on Sunday by CNN, Zelensky brushed aside the idea of letting Moscow take over the Donbas and part of eastern Ukraine to stop the conflict.
Sit-at-home Persists Alongside Easter Public Holiday In Enugu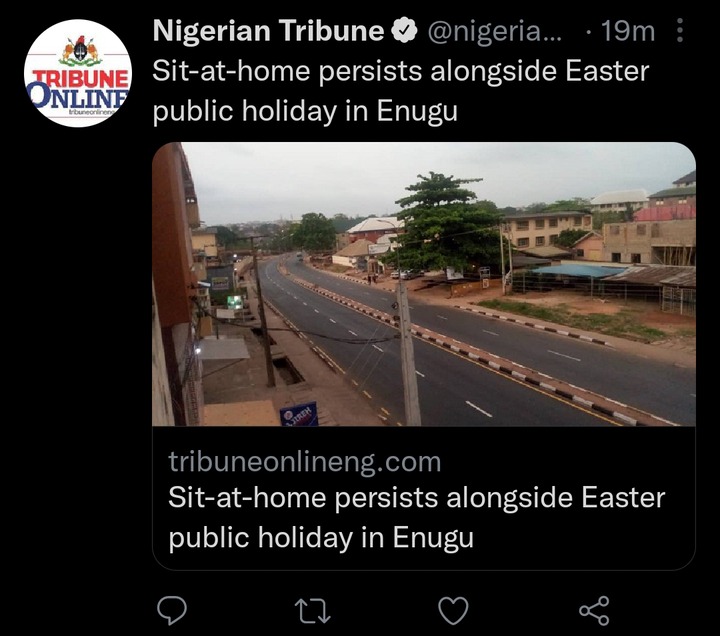 Photo credit: Nigerian tribune
Its really an uncanny and odd mix here in the Coal City and indeed in other parts of Enugu state as the FG declared public holiday for Easter Monday is running concurrently with the Monday Sit-At-Home put in place by IPOB to protest the extraordinary rendition from Kenya and detention of its leader, Mazi Nnamdi Kanu by the FG.
Though IPOB had called off the protest, restricting its observance to days of Mazi Kanu's court appearance, it has remained in sit.
Despite IPOB reiteration of its position and renewed calls for its end, the exercise has remained in place because an IPOB splinter group loyal Simon Ekpa insists it must continue.
Efforts by Anambra governor, Chukwuma Soludo has been met with stiff and violent resistance.
Ideally, it was thought that on this Easter public holiday declared by the government, it would have been lifted but that is not the case here.
Major markets, supermarkets, shops, goods stores, restaurants, eateries, bars, drink inns, filling stations, offices, banks, construction sites, garages, motor parks and other public places are all shut.
Many Houses Burnt In Delta Community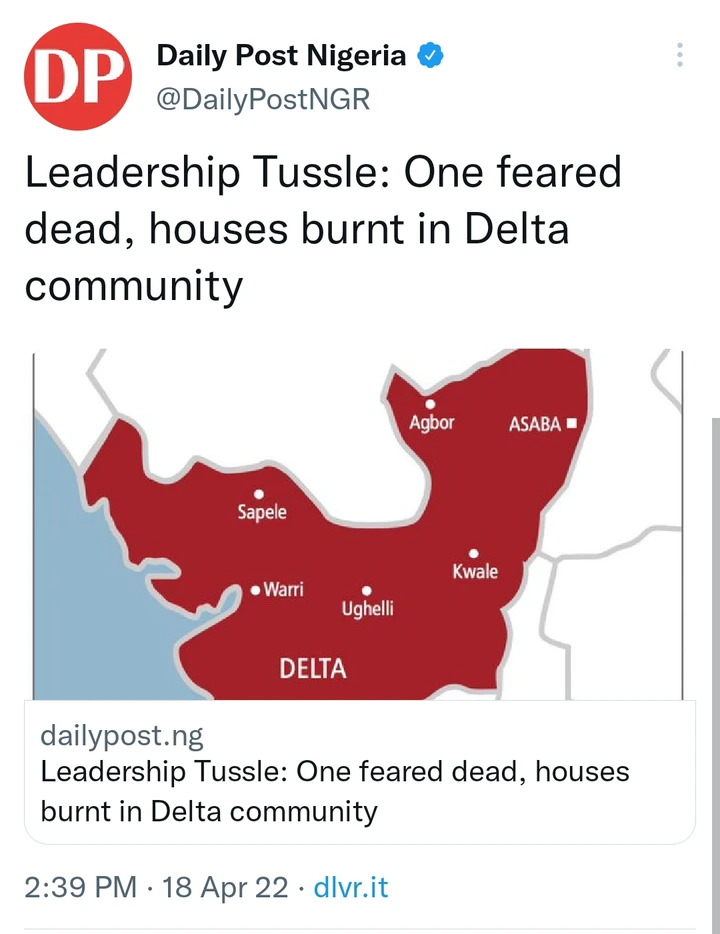 Photo Credit: Daily Post Nigeria
One person has been reported dead with many houses burnt down in Ophori-Olomu Community in Ughelli South Local Government Area of Delta State.
The incident is the result of a leadership tussle in the community, Daily Post can report.
It was learnt that some persons had wanted the Executives whose tenure is over to render account and step aside.
The refusal of the executive members to leave office caused a crisis in the community.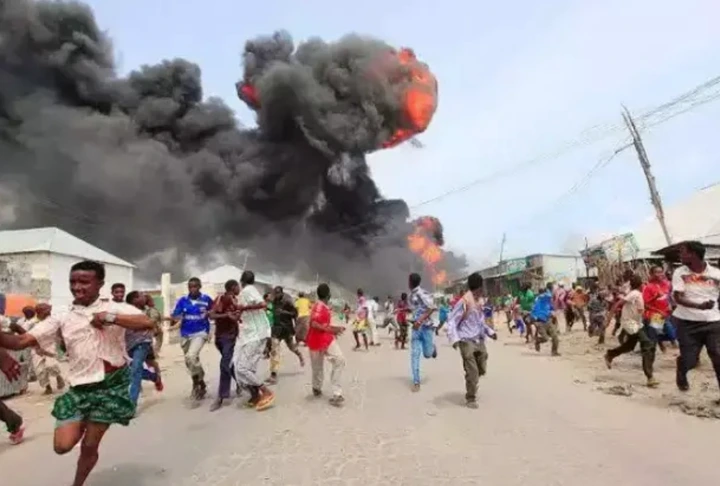 Photo Credit: Google
Over 35,000 Boko Haram Terrorists Surrender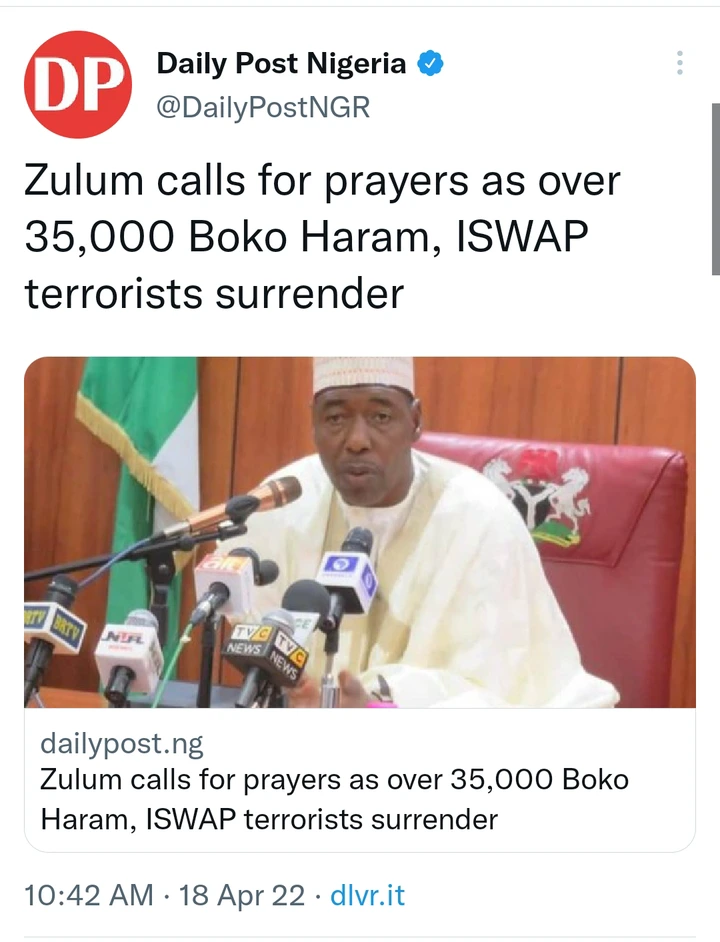 Photo Credit: Daily Post Nigeria
Gov. Babagana Zulum of Borno State has felicitated with Christians on their Easter celebration and urged for prayers for the success of the ongoing fight against terrorism.
This came amidst the reported mass surrender of over 35,000 insurgents.
The Governor, in a statement on Monday by his Senior Adviser on Communications and Strategy, Malam Isa Gusau, urged Christians and other citizens to pray and reflect on the key message of Easter.
Shina Peller Sends Warning To Youths
Photo Credit: Punch Newspapers
A member of the House of Representatives representing Iseyin/Itesiwaju/Kajola/Iwajowa Federal Constituency, Shina Peller, has called on the youths and other Nigerians to be wary of politicians who might want to use them to fulfil their political ambition against the country.
The lawmaker from Oyo State said this in his Easter message made available to our correspondent on Monday by his media aide, Kola Popoola.
He described Jesus Christ as a personality whose teachings and virtues represent the peace that every society, including Nigeria, needs to progress.
State Sends Warning To FG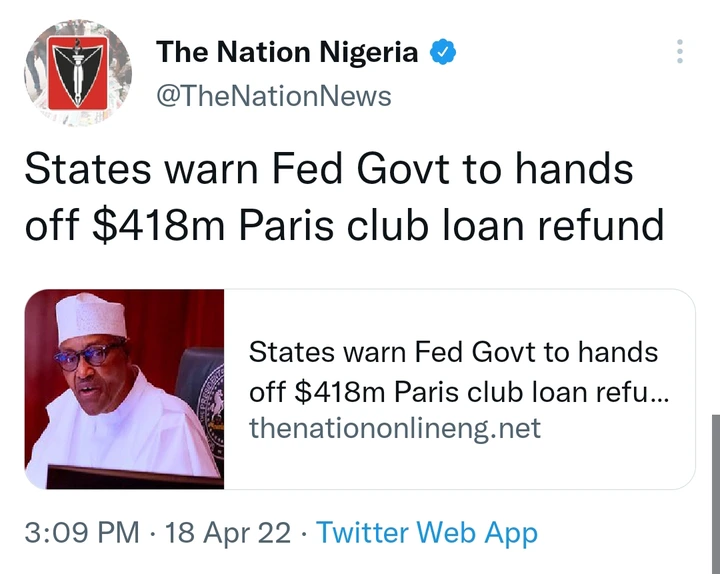 Photo Credit: The Nation
The 36 States of the Federation have warned the Federal Government not to tamper with funds accruing to them and the 774 Local Government Councils in the guise of satisfying alleged $418 million London/Paris Club Loan refund-related judgment debts.
They said they were not parties to any suit on the London/Paris Club refund, and thus were not liable to any person or entity in any judgment debt being relied on by the Federal Government.
Speaking through the Body of Attorneys-General of the Federation, the States warned further that should the Federal Government proceed to make any such deduction, it would be acting illegally and in contempt of their appeal challenging the judgment.
"Geometric Power Will Illuminate Abia" – Governor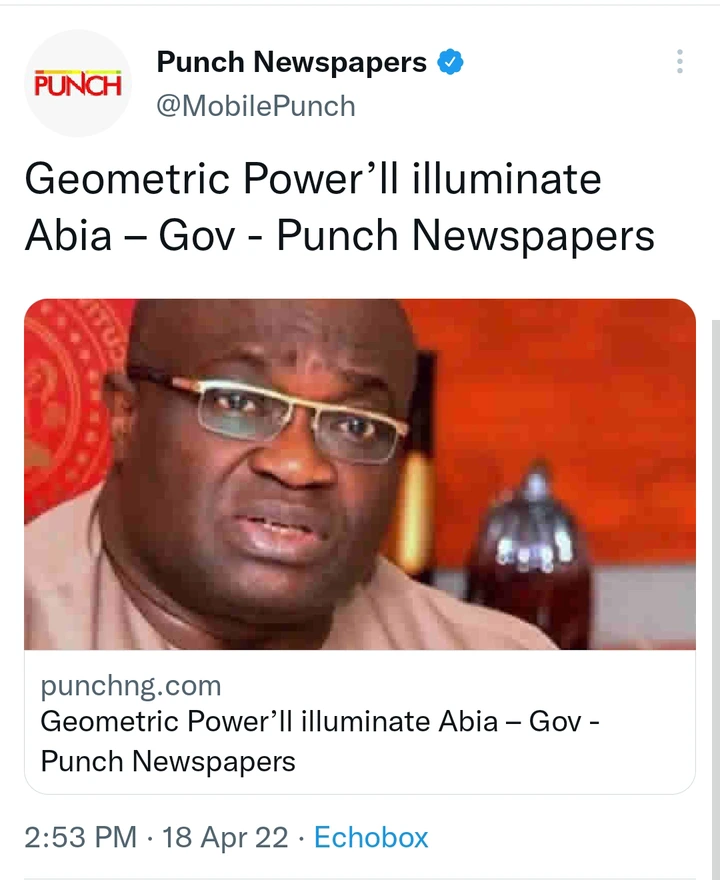 Photo Credit: Punch Newspapers
Abia State Governor, Okezie Ikpeazu, has assured Abians of a better and more prosperous tomorrow judging from the available positive macro-economic indices in the state.
Ikpeazu handed down this assurance in his message to Abians on the occasion of the 2022 Easter celebration and expressed his hope that "before the end of this year, a huge part of our state will become illuminated with uninterrupted electricity as the Geometric Power Project will fully come on stream".