Nigerians eat a lot of rice but isnt yam better. Hear me out.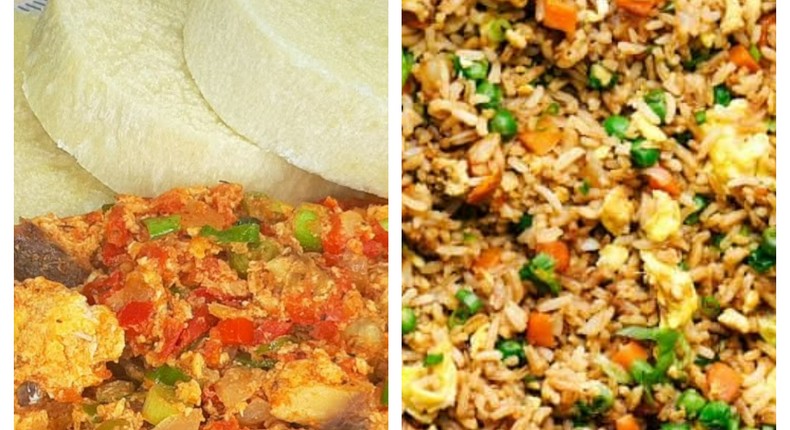 Will yam beat rice in a contest [Youtube/Tastycity]
Hardly a week goes without Nigerians eating rice, they can eat it for breakfast, lunch, and dinner. Will you blame them? What options do they have? It is either rice or swallow and not everyone has the patience for swallows like fufu or semo.
Jollof Rice with Stew is a everyday of the week meal [Wikipedia]
Plus, can you imagine licking Egusi soup and pounded yam in the office by 2 pm? Well, much rather you eat rice.
How versatile is rice?
Well, rice is versatile. There is the common jollof rice and then there is rice and stew or, rice and beans, coconut rice, village rice or palm oil rice, and fried rice. You can also eat rice with egusi or vegetable soup or with sauce.
But no matter how you twist it, rice is still rice and it is very normal to get tired but sitting in the corner eyeing you is yam.
Yam is giving Nigerians the seductive side eye
Porridge yam with some veggies is so yum [Youtube/Tastycity]
Yam is an often-ignored meal, but it has so many varieties. There is boiled yam and sauce, fried yam and egg or sauce, yam and beans, yamarita or yam dipped in egg and fried, porridge yam and pounded yam.
Pounded yam the best swallow is made from yam [Cheflolakitchen]
If we want to eliminate rice from being our everyday meal, then yam is staring right at us begging to be chosen.
Of course, some people complain that yam is hard to swallow while these same people gulp morsels of eba, it is simply yam prejudice.